CLICK HERE FOR IMPORTANT MIDDLE SCHOOL AND HIGH SCHOOL ELIGIBILITY CHANGES
Athletics are a source of pride for Onslow County Schools and our communities. Our teams consistently capture conference, regional and state championships. Our athletic programs strive to provide our student-athletes with an enjoyable and challenging athletic environment which emphasizes the attainment of both physical skills and strong character development, as well as encouraging the lifelong learning process. These programs aim to develop in students: excellent sportsmanship, a strong work ethic, a spirit of cooperation, leadership skills, and important personal character traits. All student-athletes must be in good academic standing and adhere to county and state regulations in academics, attendance and residency.
The school district offers 9 sports at the middle school level and 15 for high school students (not all of the high schools offer all sports). Athletic programs in Onslow County Schools emphasize academic success in the classroom, student attendance in school and good sportsmanship and citizenship on and off the field.
Our high school teams compete under the rules and policies governed by the North Carolina High School Athletic Association (NCHSAA). Each high school participates in an NCHSAA-approved conference against schools in the surrounding area. Dixon, Richlands and Southwest compete in the Coastal Eight 1A/2A Conference, while Jacksonville, Northside, Swansboro and White Oak are all members of the Coastal 3A Conference. All 8 of our middle schools compete in the Onslow County middle school conference.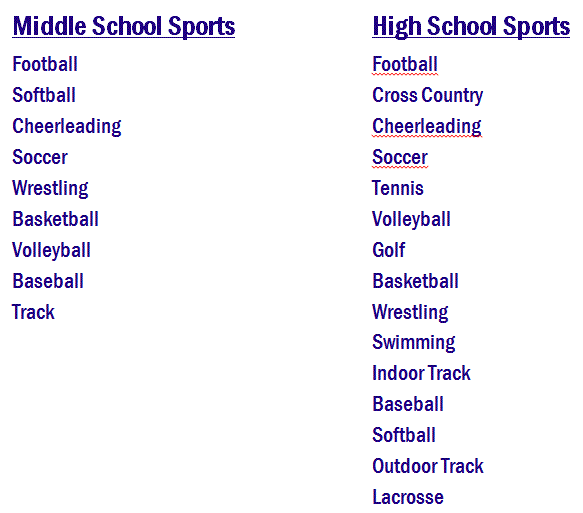 For more information on specific sports offered at our middle and high schools, contact the specific school's Athletic Director. Their contact information can be found on the High School or Middle School page.