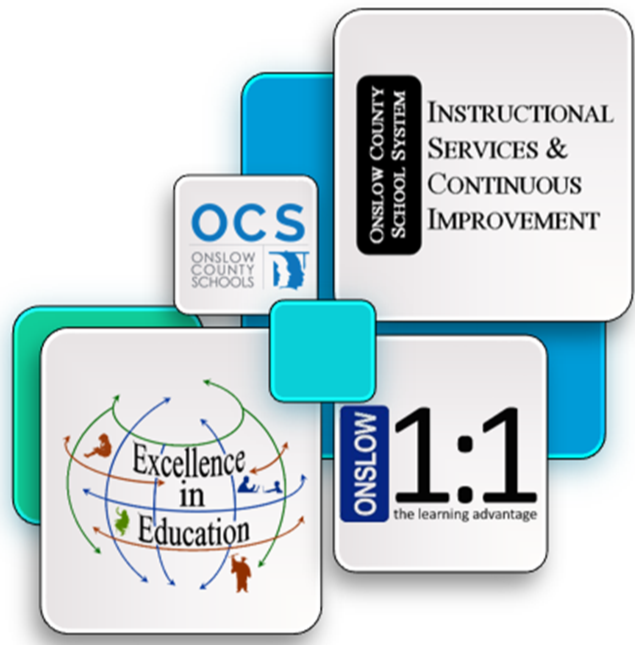 Welcome to the Onslow County Schools Department of Instructional Services and Continuous Improvement. Included in this area of our website you will find pertinent information regarding all instructional divisions and services to schools, educators, parents and students.
Please keep in mind that Onslow County School System was the first school system in the state of North Carolina to achieve District SACS/CASI Accreditation in April of 2005. The district was successfully re-accredited in 2010 and 2015 with an update scheduled for Spring of 2017. It is this process of continuous improvement that molds us and drives us as a system of excellence.
As a system, we continue to realize our vision of Excellence in Education and strive daily to work towards our mission of preparing students to be globally competitive, career- and college-ready and responsible citizens in the 21st century.
The world for which we are preparing these students is changing exponentially with technology, economic development, and high-level skill development becoming an integral part of the focus for not only North Carolina but society as a whole. Now more than ever, the task of providing opportunities for all students to be successful is a must. Now more than ever with a true future focus, the Onslow County School System must provide new and challenging opportunities for our students in order to best meet the needs and growth of the greater community we serve.
After careful and deliberate planning, our work continues. As a system of excellence, we must strive to ensure that our students are globally and locally competitive, led by passionate, creative teachers, and involved in innovative and effective programming. Through our continued focus, we must now consider and monitor rigorous expectations and student achievement outcomes.
As we address the 2016-2017 Onslow County School System's Instructional Program, four major priorities arise:
MTSS (Multi-tiered System of Support;

Edmentum as an educational resource;

Instructional planning;

And ongoing data analysis.
Educators, parents and community members should consider the following big ideas and concepts as they work through this school year with children:
Ask children the same questions as it pertains to their new work: what do you know, what do you need to do, and what do you understand.

Share with children the importance of vocabulary usage; use the new words that are found within all curriculum areas.

Look for evidence of connected learning; children should share concepts that connect three or four of their subject areas.

Remind children to read nonfiction; they will detect a heightened usage of informational texts.

Discuss with children world events, new careers especially in the areas of science, technology, engineering and math; and begin to consider the introduction of a world language.

Consider what a child is truly interested in; relevant learning is exciting and personalized.

Engage children in activities and discussions centered around digital citizenship; we must all learn proper usage of technology as a tool for learning, researching and communicating.

Praise children for "deliberate acts of kindness."

Encourage greatness in all of our children; all children have gifts, talents and a capacity to lead.

Finally, encourage children to become involved and engaged in their community, schools and classrooms.
2016-2017 has the potential to be a truly outstanding school year. Together, we can and will make a difference in the life of each child who prepares to graduate from an Onslow school prepared for college and careers.
Thank you for visiting our website and please contact our offices at any time. We are truly here to serve.
Lesley F. Eason, Ed.D.
Associate Superintendent for Instructional Services and Continuous Improvement